----- Experimental -----
----- How it works and How I did it -----

Solar Electric Panels, 12 volt batteries, and a 1000 watt pure sine wave inverter added to a small Camper to run and keep charged a laptop computer used for mapping and GPS tracking, an LED light or two, a fan, and a 12 volt DC cooler. Convenient while camping in the middle of nowhere or while driving down the road. I just added a second battery and 200 watts of solar power, bringing the total to 445 watts charging two size 24DC batteries (size 24 Deep Cycle) -- much better.

This worked. But I would double it again, to 4 batteries plus
800 watts of solar, and seldom ever worry about power
usage, parking in the shade a bit, or overcast days.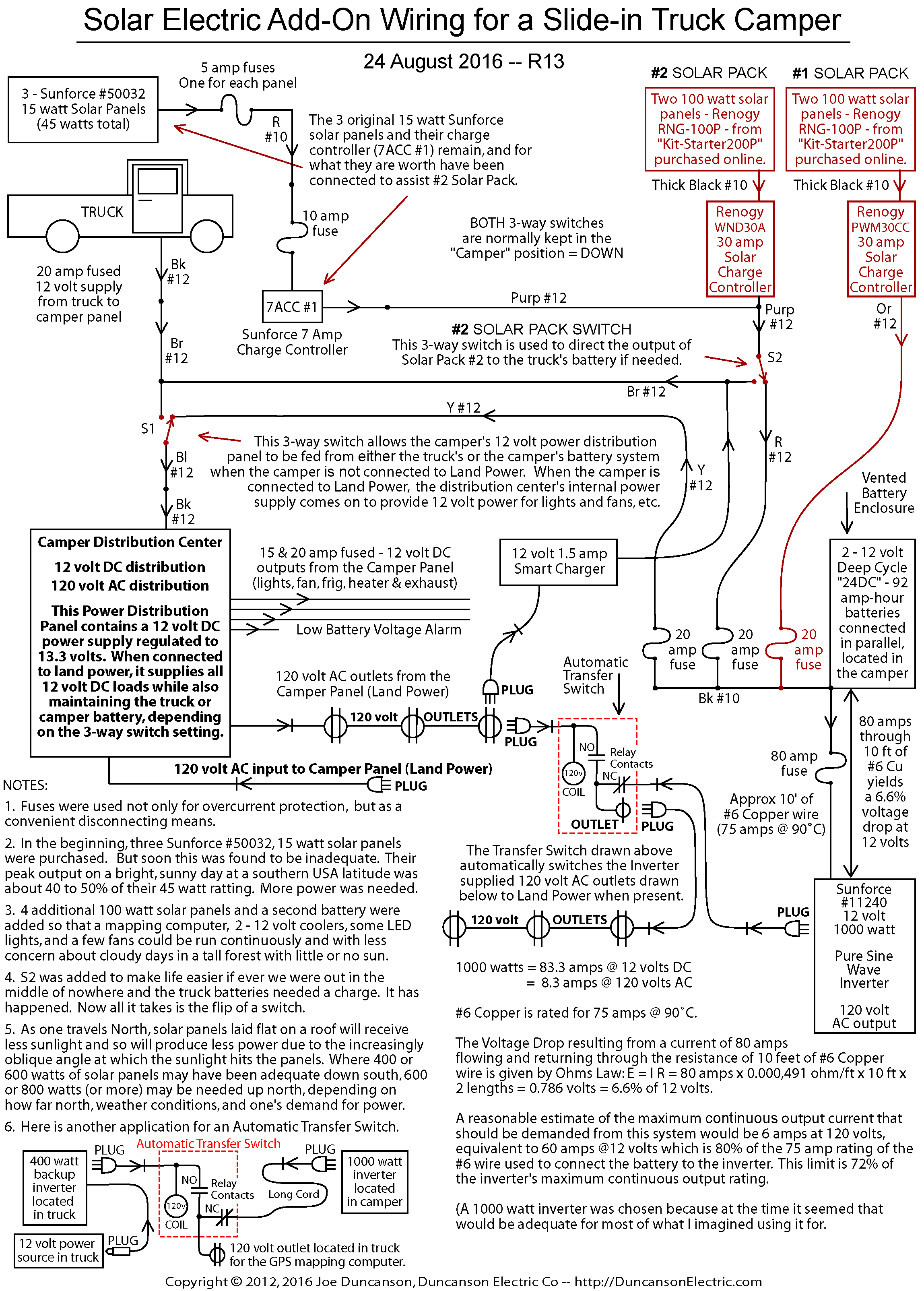 Below we can be seen on a plateau above Overton, Nevada, rigorously testing the system.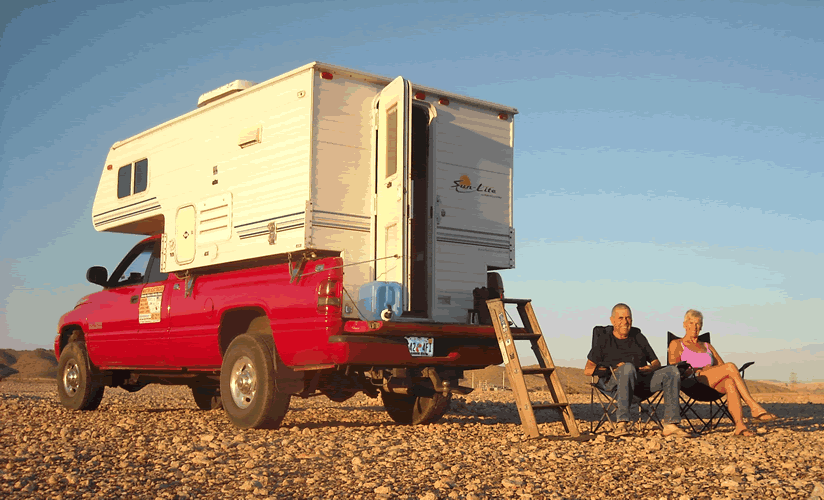 Next, you can see what this rig looked like when I first started playing with it, the 4 solar
charge controllers with the camper battery smart charger (unplugged), the black box to the
right is the 1000 watt pure sine wave inverter (mounted on top of the water reservoir). The
single battery was located in the lower center, in the white plastic box, vented to the outside.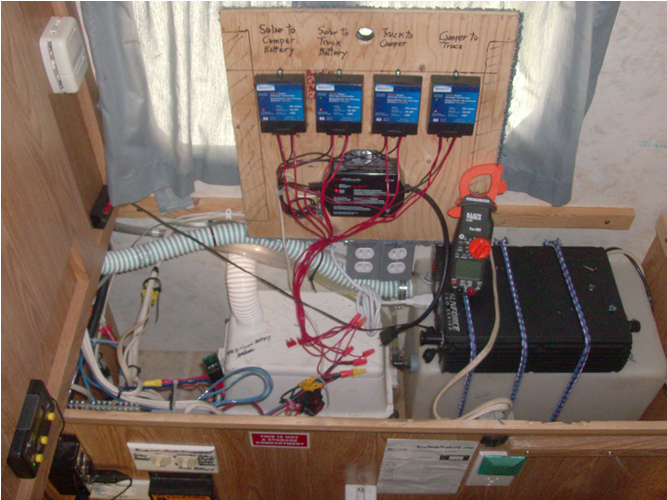 And next is a look topside where the 3 - 15 watt solar panels are mounted. At times I have wished
I had available the 15 amps of 120 volts needed to run the A/C you see mounted to the left, but
with the high efficiency Vortex exhaust fan I put in over the bed, and the three high efficiency
circulating fans, and by switching all light bulbs to LED type, we have comfort out west.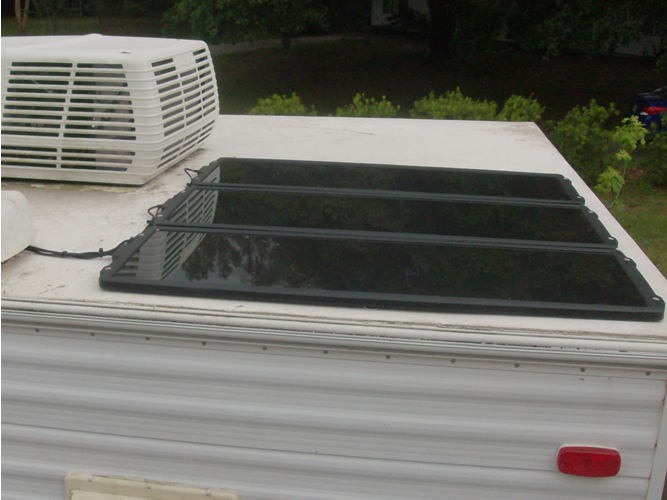 Now we're up to 445 watts total and with double batteries. It's getting a bit busier up on the
roof and in the control cabinet. But we've got power to spare, though still not
enough to run that beast of an A/C someone mounted on the roof.


MORE PHOTOS SOON


Ahh, home at last!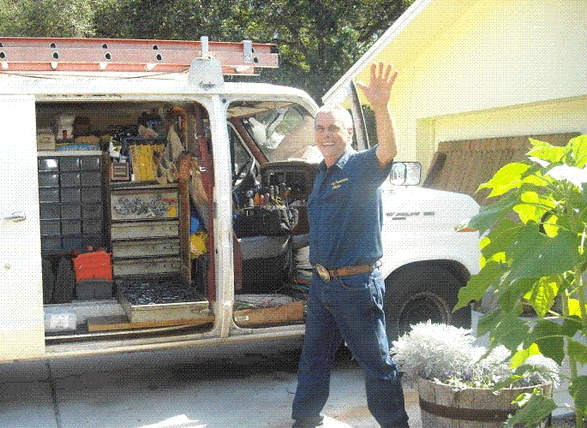 Scurrying past is my grandson Atticus.
And growing to the right are Sun Flowers... soon to be blooming.
I am Joe Duncanson -- The Electrician

I do all types of Electrical Repairs, Lighting Repairs, Small Jobs,
Trouble Shooting, and Machine Control Repairs.

SERVING: Clearwater, Largo, Palm Harbor, Safety Harbor,
Dunedin and surrounding Pinellas County, Florida.


I have over 30 years experience as a Licensed Master Electrician.

And, I work Saturdays at Weekday Rates.
(727) 461-2110
Duncanson Electric Co
Licensed Independent Electrical Contractor.



Non-urgent -- personal communications
may be addressed to me by clicking here:

Joe at Duncanson Electric Co


Content and Design Copyright © 2007, 2014 by Joe Duncanson (Duncanson Electric Co). All Rights Reserved.
Design and Hosting by New Vibe Web Design